anip | ramani | are-me | helmi | dino | ad | ijal | hasru | wan | hasyish | azam
THE CHARMING PRINCE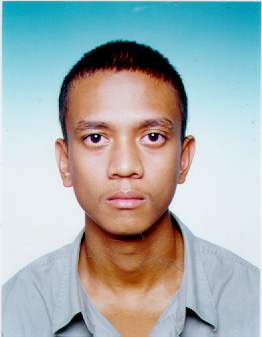 AZAM DA' PARN
Name : Mr. Azam Nur Hazman bin Azmi
Date of birth : 12 October 1981
Address: 266, Taman Damai,
06400 , Pokok Sena
KEDAH Darul Aman............
Hobbies : Surfing, Skateboarding, Singing, Lepack'in' and others
Ambition : Specialist Doctor INSYAALLAH
Philosophy :Be yourselves,stay cool in whatever you do,don't let people control yourselves,
<GRUNGE NEVER DEAD>
Phone :04 - 7823077

: AREA_CIVIL@HOTMAIL . COM
U WANNA KNOW MORE 'BOUT ME ???........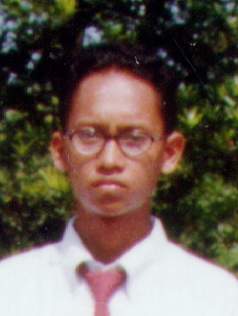 JA'AR
Name: Mr. Azhar bin Mohd Khairy
Date of birth: 14 September 1981
Address: 571 Jln Gertak Merah 80000 JB
JOHOR Darul Takzim
Hobbies: Playing Guitar, Keyboard, Drum, Computer,Golf, Violin,Snooker, Tennis
Ambition: Electronic Engineer @ The Greatest Guitarist
Philosophy:Bila makan nasi kita akan kenyang...erkkkk.... Alhamdulillah!
Phone: 07-2249678

: izus99 @ hotmail.com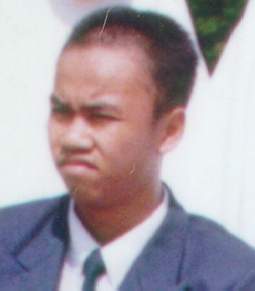 Joe
Name:Mr. Azwan Ali Aziz
Date of birth:17 January 1981
Address:Kampung Air Panas,Slim River Perak
Hobbies:Bersukan ( Angkat Berat,Lawn Ball,Polo
Sembunyi Ibu,Polis Sentri,Masak-Masak)
Ambition:Engineer
Philosophy:"Just Me And "L"Know"
Phone:05-4526657

:nauza81@hotmail.com
Mint Nawzi
Name: Mr. Hasruizwan bin Hashim
Date of birth: 22 May 1981
Address: 11, Jalan Sri Siantan 50, Taman Seri Andalas
41200 Klang
SELANGOR Darul Ehsan
Hobbies: Reading story book, watching tv, playing video game, chit-chat
Ambition: Doctor
Philosophy: Life is short, play hard,
Life goes on, spice up your life
Phone: 03-3331000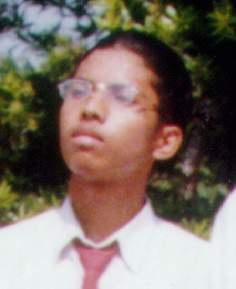 'NYERT'
Name: Mr. Khairul Rijal bin Radzi
Date of birth: 18 July 1981
Address:36 Jalan Zainal Abidin
10400 Penang
Hobbies:Skate, Joget Lambak, Fighting, Gamming,
Playing Game, Polo, Swimming, Jamming,
Feeling, Bergayut, Snooker, and other sepultura root
Ambition:Doctor
Philosophy:KILL KILL KILL DIE DIE DIE!!!!
Phone:04 2263119, 999,

:kullc@hotmail.com
rijal8181@hotmail.com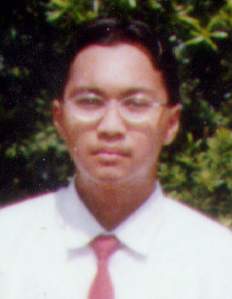 -+\

Karate-Ka
Name: Mr. Mohd. Faizal bin Yasak
Date of birth:7 June 1981
Address:Lot 2386 Kg.Sg.Jaya Bukit Gambir 84800 Muar
JOHOR Darul Takzim
Hobbies:Karate,Reading,Badminton
Ambition:Islamic Engineer
Philosophy:Istiqamah dalam segala amalan
Phone:06-9766157

'Ad the slumber boyz'
Name: Mr. Mohamad Fuad bin Abdul Aziz
Date of birth: 01 October 1981
Address: 56, Persiaran Beduk,
Taman Seri Aman,
14200 Sungai Jawi,
Penang.
Hobbies: Equestrian, soccer, water skiing, roller blade, scuba diving and others.
Ambition: Multimedia Engineer
Philosophy: Life is slumber,
Islam must first in anything we do
Phone: 04-5825411

:adaz13 @ usa.net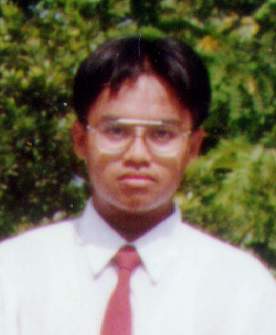 Adi the adiwarna
Name: Mohd. Hardie Hidayat bin Mohyi
Date of birth: 24 April 1981
Address: No 5, Lorong Melati 3/10, Bandar Melawati
45000 Kuala Selangor
SELANGOR Darul Ehsan
Hobbies: Reading, Computer and watching VCD
Ambition: Computer Engineer
Philosophy: Fastakim Kama Umirta
Phone:03-8891426

:jq_questworld @ hotmail.com
Spawn
Name: Mohd Helmi bin Saparwan
Address: No.17, Jalan 19/9A,
Seksyen 19,
40000 Shah Alam,
Selangor Darul Ehsan.
Hobbies: Golf, polo, surfing,scuba diving,equestrian,boat racing,
Ambitions: Engineer @ Specialist doctor.
Philosophy: Don't you cry tonight....
Phone: 03-5419741

:Emi_81@hotmail.com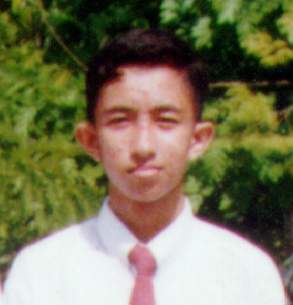 REMENI
Name: Mohd. Rahmani bin Jaafar
Date of birth: 15 June 1981
Address:405 Taman Tanjung Chat
15300 Kota Bharu
KELANTAN Darul Naim.
Hobbies: Reading none-academic materials
Ambitions : specialist medical doctor
Philosophy: the man who win is the man who have ever failed
Phone: 09-7449617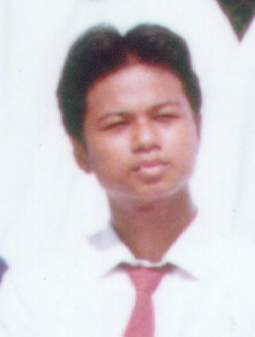 RYU
Name: Muhammad Haniff bin Hashim
Date of birth: 27 October 1981
Address: No 27 ,Jalan Bunga Raya 11,
Taman Tasik Jaya,
70400 Seremban,Negeri Sembilan.
Hobbies: Karate, Tennis,Bowling,Cooking,Shopping.
Ambition: Specialist Doctor
Philosophy: One For All, All For One
Phone:06-6787402

intro | girlz | class teacher | teachers | organization | picture gallery | tazkirah | e-mail & links